Australia Cup 1962 - Results
Australia Cup -- Main Page | 1962 | 1963 | 1964 | 1965 | 1966 | 1967 | 1968
Qualified clubs
| | | | |
| --- | --- | --- | --- |
| Club | Region | Division in 1962 | Placed |
| Adamstown Rosebud | N-NSW | Northern NSW Division One | 1st |
| Awaba | N-NSW | Northern NSW Division One | 2nd |
| St George Budapest | NSW | NSW Division One | 1st |
| Sydney Hakoah | NSW | NSW Division One | 2nd |
| APIA Leichhardt | NSW | NSW Division One | 3rd |
| Yugal | NSW | NSW Division One | 4th |
| Brisbane Hellenic | QLD | Brisbane Division One | 1st |
| Brisbane Azzurri | QLD | Brisbane Division One | 2nd |
| Oxley United | QLD | Brisbane Division One | 3rd |
| Adelaide Budapest | SA | SA Division One | 1st |
| Adelaide Juventus | SA | SA Division One | 2nd |
| Adelaide Croatia | SA | SA Division One | 3rd |
| South Melbourne Hellas | VIC | VIC State League | 1st |
| Melbourne Juventus | VIC | VIC State League | 2nd |
| Wilhelmina | VIC | VIC State League | 3rd |
| Footscray JUST | VIC | VIC State League | 4th |
2 November 1962

Brisbane Hellenic

(0)

0

Sydney Hakoah

(1)

1

Exhibition Ground, Brisbane

Goal: M. Bell

Attendance: 1,500

Referee: K. Urwin

2 November 1962

Adamstown Rosebud

(0)

0

Wilhelmina

(1)

2

Crystal Palace, Wallsend

Goals: Frank Stoffels (2)

Attendance: 3,500

Referee: Tony Boskovic (Sydney)

3 November 1962

Adelaide Juventus

(1)

3

Brisbane Azzurri

(1)

2

Hindmarsh Stadium, Adelaide

Goals: D. Howlett, A. Pegoraro, John Moriarty

Goals: F. Cleeton, A. Robertson

Attendance: 3,000

Referee: L. Cadelli

4 November 1962

South Melbourne Hellas

(1)

1

Yugal

(0)

2

Olympic Park, Melbourne

Goal: George Papadopoulos

Goals: Mite Stojakovic, Eric Schwartz

Attendance: 14,000

Referee: Bill Hosie (Adelaide)

9 November 1962

Awaba

(0)

1

APIA Leichhardt

(2)

7

Crystal Palace, Wallsend

Goal: R. Burgoyne

Goals: Bruce Morrow (3), John Giacometti (2), Filippo Bottalico, R. Hitchcock (own goal)

Attendance: 4,000

Referee: W. Vernon (Queensland)

10 November 1962

St George Budapest

(4)

5

Oxley United

(2)

2

Sydney Athletic Field

Goals: Joe Galambos (2), J. Medina, H. Stegbauer, J. Vasvary

Goals: G. Arrowsmith (2)

Attendance: 2,125

Referee: R. Jones

11 November 1962

Melbourne Juventus

(1)

3

Adelaide Croatia

(0)

1

Olympic Park, Melbourne

Goals: R. Acunzo (2), M. Pagotto

Goal: D. Turic

Attendance: 7,500

Referee: Roy Pierce (Sydney)

18 November 1962

Footscray JUST

(1)

1

Adelaide Budapest

(2)

3

Olympic Park, Melbourne

Goal: Verko Mladenovic

Goals: K. Marton, A. Cseri, B. Szabo

Attendance: 7,000

Referee: Frank Sbisa (Sydney)

According to The Age, Steve Herczeg scored two of the goals for Adelaide Budapest
18 November 1962

Sydney Hakoah

(1)

2

Adelaide Juventus

(0)

6

Wentworth Park, Sydney

Goals: Karl Jaros (2)

Goals: Dave Howlett (3), John Moriarty (2), A. Pegoraro

Attendance: 4,545

Referee: Roger Lamb (Victoria)

25 November 1962

Yugal

(2)

3

APIA Leichhardt

(1)

2

Wentworth Park, Sydney

Goals: Tony Nincevich, Tiko Jelisavcic, Ferdo Dunaj

Goals: Bruce Morrow (2)

Attendance: 9,308

Referee: L. Cadelli

25 November 1962

Wilhelmina

(0)

0

St George Budapest

(1)

2

Olympic Park, Melbourne

Goals: Jose Medina, Joe Galambos

Attendance: 13,000

Referee: G. Hosie

Double-header

25 November 1962

Melbourne Juventus

(1)

1

Adelaide Budapest

(0)

0

Olympic Park, Melbourne

Goal: Steve Bukkos 20 (pen)

Attendance: 13,000

Referee: Tony Boskovic (Sydney)

Double-header
2 December 1962

Adelaide Juventus

(0)

0

St George Budapest

(2)

3

Hindmarsh Stadium, Adelaide

Goals: Jose Medina (2), Mladen Krgin

Attendance: 5,000

Referee: Roger Lamb (Victoria)

2 December 1962

Melbourne Juventus

(0)

1

Yugal

(0)

2

Olympic Park, Melbourne

Goal: R. Acunzo

Goals: Tony Nincevich, John Mucillo

Attendance: 9,000

Referee: G. Hosie

Eric Swartz (Yugal) and Barbon (Juventus) sent off after 80 minutes for fighting.

One source (the SMH) awarded the John Mucillo goal to Tiko Jelisavcic
Third Place Match
9 December 1962

Melbourne Juventus

(1)

1

Adelaide Juventus

(0)

1

Olympic Park, Melbourne

Goal: Frank Barbazza 37

Goal: N. Faraone 81

Attendance: 5,500

Referee: Frank Sbisa (Sydney)

After extra time. Six period of 5 minutes were played with the golden goal rule, during which no further goals were scored.

Penalty Kicks: Adelaide Juventus 4 Melbourne Juventus 3.

Five penalty kicks were taken for each club, all by the same goal kicker: Steve Bukkos for Juventus; Bruno Esca for Adelaide Juventus.

One source list John Moriarty as the scorer for Adelaide Juventus, but The Age and the SMH list Faraone as the scorer.
9 December 1962

Yugal

(4)

8

St George Budapest

(0)

1

Wentworth Park, Sydney

Goals: Tiko Jelisavcic (4), Eric Schwartz (2), Tony Nincevich, Slavko Pacanin

Goal: David Buchanan

Attendance: 11,014

Referee: G. Hosie
Source: Sydney Morning Herald, 10 December 1962, page 16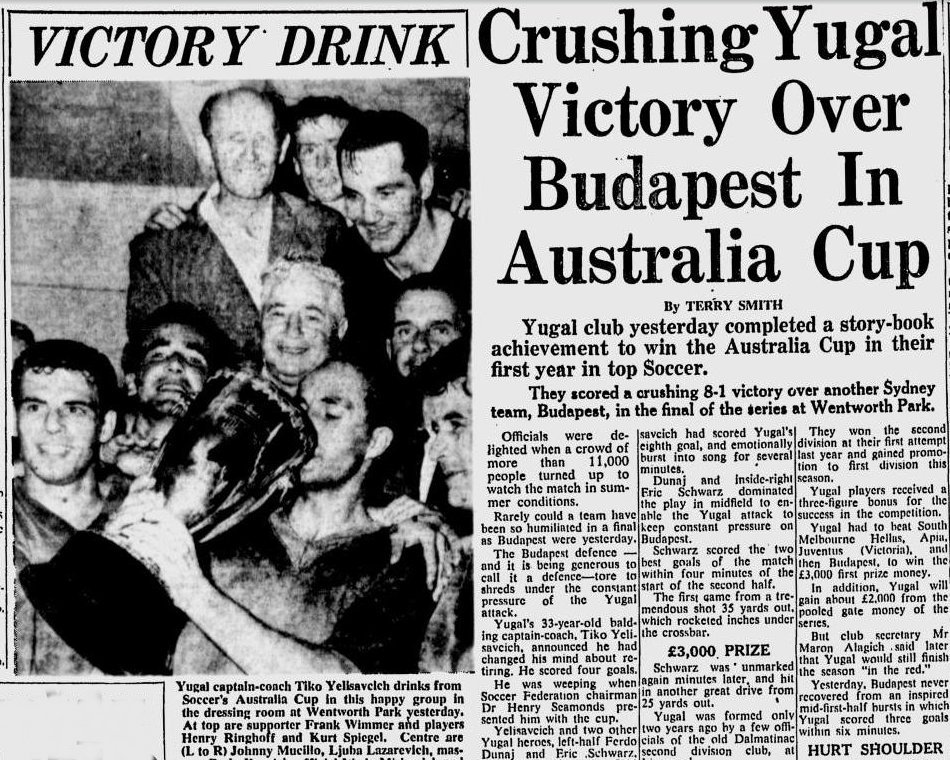 …..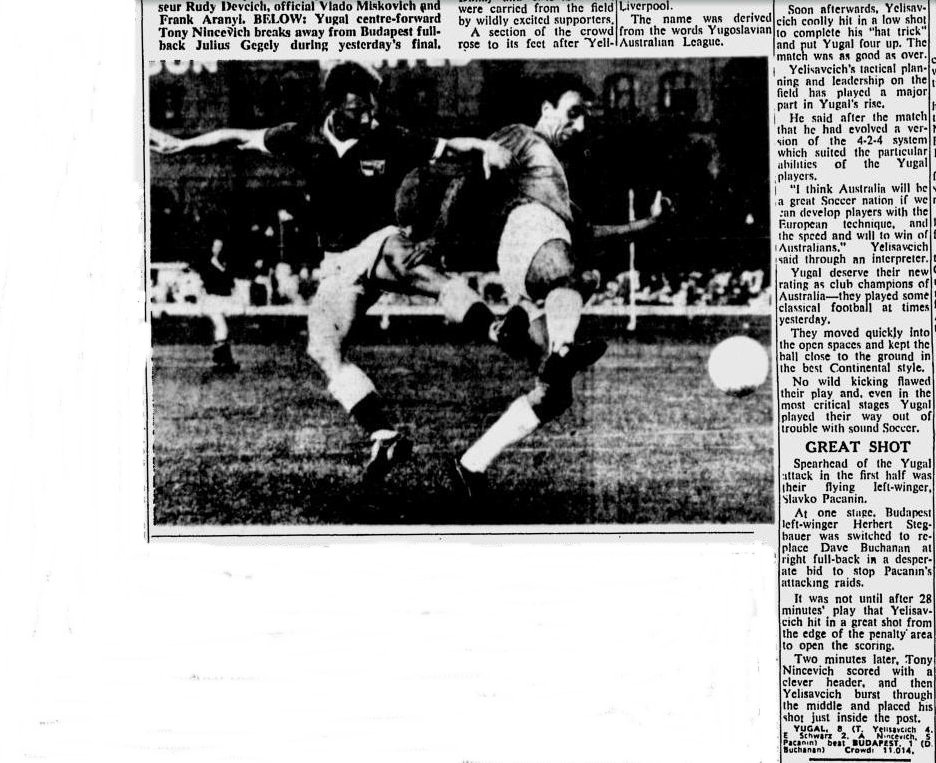 Sources
Victorian Soccer Federation -- Official Year Book 1963
Editions of The Age newspaper (1962)
Editions of The Sydney Morning Herald newspaper (1962)
Editions of The Canberra Times newspaper (1962)
The Australian Player Database on ozfootball.net for checking the full names of goal scorers
Prepared and maintained by Andrew Robinson
Author: Andrew Robinson (contact: andrewxx166 at hotmail dot com)
First created: 8 June 2016
Last updated: 30 October 2019
(C) Copyright Andrew Robinson
You are free to copy this document in whole or part provided that proper acknowledgement is given to the author. All rights reserved.
[ Brisbane Football (Soccer) Tables -- Main index ]